Have David G Broadbent Present as a Key Element of your Conferencing Strategy.
In today's rapidly evolving professional landscape, conferencing has become a vital aspect of organizational growth and personal development. Whether you are a seasoned expert or just starting your career, participating in professional conferences offers numerous benefits that can significantly impact your professional journey.
Knowledge Expansion:
Professional conferencing provides an excellent platform to learn from industry experts, thought leaders, and innovators. Through keynote presentations, workshops, and panel discussions, attendees gain access to the latest trends, research, and best practices in their respective fields. This exposure to new ideas and insights helps professionals stay at the forefront of their industries and adapt to changing market demands.
Networking Opportunities:
Conferencing offer a unique environment to network with like-minded individuals, potential clients, collaborators, and employers. Engaging with peers and industry influencers can lead to valuable connections that may open doors to new opportunities, partnerships, or even job offers. Building a strong professional network can enhance your career prospects and provide a support system to overcome challenges.
Personal Growth and Confidence:
Presenting or speaking at a conference can be a daunting task, but it offers tremendous personal growth opportunities. The experience of sharing your expertise or research in front of a diverse audience boosts self-confidence and enhances communication skills. Over time, regular participation in conferences can transform you into a more effective and influential communicator.
Exposure to New Tools and Technologies:
Conferencing often exposes people to cutting-edge tools, technologies, and products relevant to the industry. Hands-on demonstrations and exhibitions enable attendees to explore innovative solutions that can streamline processes and boost productivity in their work. Staying informed about the latest advancements positions professionals to make informed decisions about adopting new technologies.
Exchange of Ideas and Perspectives:
Interacting with professionals from various backgrounds fosters a healthy exchange of ideas and perspectives. Conferencing brings together individuals with diverse experiences, which can lead to fresh insights and alternative approaches to problem-solving. Engaging in such collaborative environments promotes a culture of continuous learning and innovation.
Rejuvenation and Inspiration:
The fast-paced nature of professional life can be mentally and emotionally draining. Attending conferencing events provides an opportunity to take a step back, gain fresh perspectives, and reignite your passion for your work. Being surrounded by enthusiastic professionals who share similar goals and challenges can be a powerful source of inspiration and motivation.
If you still need convincing, check out the views of the Australian Institute of Company Directors. Just click here.
David G Broadbent (the Creator of The Transformational Safety Culture and Leadership Development Systems) has a long history of presenting at Conferences both domestically and around the World. Just read what some people have said about David's presentations:-
I have been working in Safety for many years. This is the first time that anyone has made sense of accident causation for me. Thankyou".

"David's ability to make sense of this safety stuff is amazing. If I had not been here I would not have believed it".
"I thought I had been around long enough to not see anything 'new'. I was wrong".
"This has been the best safety learning experience I have had in many years. Thankyou David for your passion and belief".
"I would never have believed anybody could have a room full of passionate South African rugby supporters singing 'Waltzing Matilda' to images of the Wallabies scoring tries; and during the World Cup. UNBELIEVABLE! Truly shows the power of transformational leadership within a training session. Well Done!"
"When I was told that the day was being 'taken' by an Australian safety guy, and he was speaking about 'safety culture' in South Africa I was sceptical at best. How wrong was I! David's breadth of knowledge was amazing. I have a lot to think about. Thankyou".
"The Transformational Safety Leadership competencies are so 'simple". I see them being played out around me every day; why has no-one made sense of this in the past? Well Done David"
"I attended David's safety culture seminar. It is one of the most powerfully influencing days of the last decade for me. Culture is just so much more powerful than I ever imagined and David makes it make sense. Not only that; he shows you what you can do to turn your culture around. I shall be having David work with our senior leadership team on this stuff. The world is a small place. Get ready to spend more time on a plane David. We want you in the US".
David G Broadbent speaks to small groups in an interactive and entertaining workshop style, right through to an international convention center with over 1000 delegates.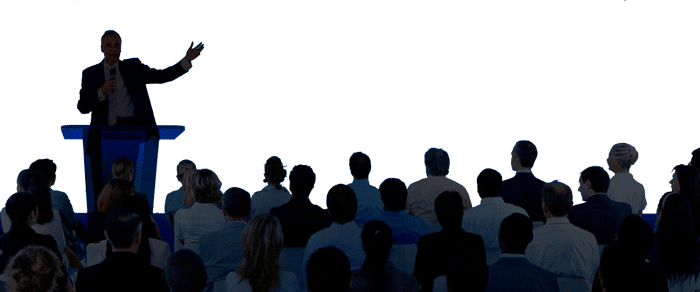 Pradeep, New Delhi

"I was in the audience when David Broadbent gave a Keynote Address at the inaugral Global HSE Conference that was sponsored by Cairn Energy in 2013. This was an invitation only event and had several hundred of India's top safety executives in the hall. David spoke about safety culture and safety leadership in such a way that it just made sense. At the morning tea break people were heard talking about how an Australian could seem to have such a deep understanding of how Safety works in India."