The Integrated Safety Culture Analysis Sample Report
Excerpt from the Integrated Transformational Safety® Culture & Leadership Assessment Report.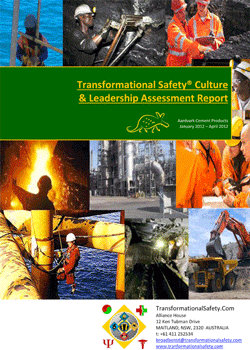 What does communication look like at Aardvark Cement Products?
Safety Communication continues to be recognized as a core predictor within the cultural journey of any business. An organisation may have all the correct policies, procedures etc. It may have the appropriate corporate values, with safety being a core value. All that being said, if the workforce does not recognize these "values" via the internal communication structures, the effectiveness of the overall safety plan is being compromised. The items within the Communication element of the Transformational Safety® Culture Survey aim to provide a balanced appreciation of the workforces' acknowledgement of the quality of the safety communication within the workplace.
Aardvark Cement Products's response profile shows an organisation that has a range of communications that the workforce generally recognizes as "working". To a large degree it is acknowledged that when it comes to safety, there is pretty much an "open door" policy and that safety communication is reasonable. There was a significant level of uncertainty about these factors; although the level of complete disagreement was relatively small.
The level of "praise" or "recognition" for safe work practices is felt to be quite low, with half the workforce suggesting they do not receive any real recognition.
It was also felt by many employees, that supervisors did not always inform them about what was going on around the organisation.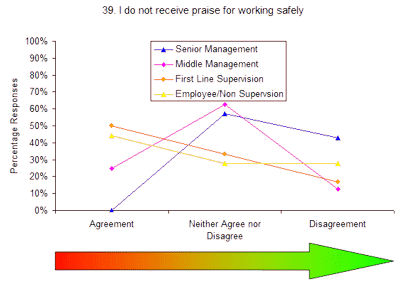 When we explore the data slicing we find that Employees/Non Supervision and First Line Supervisors are in agreement with respect of praise/ recognition. Almost 50% report a clear lack of praise; when you factor in the "undecided" the observation becomes more powerful.
Within traditional behavioural research we know, with some certainty, that positive reinforcement (which may take the form of praise) has far greater long term impact than the alternative. As we move higher up the organisational tree there is less certainty. It is interesting to observe that almost all employment levels "disagree" to the same proportions. The evident difference is the view expressed by the Senior Management which is almost of an opposing view to the general workforce. Senior management appear to recognize the value of "praise", and report actually being in receipt of some, although this would not appear to be titrating down to other levels within the organisation. This is a significant observation.
Click Here to download a full copy of The Sample Report.
"Most organizations operate in failure states and that just remains invisible because bad stuff is not happening. We might call that the 'normalization of deviance' and, make no mistake, it will kill."

Ricky, Atlanta

"I was fortunate to attend Transformational Safety's Anatomies of Disaster Program. This was amongst the most powerful two days I have ever spent in a room. From the outset David Broadbent set the scene by dedicating the program to the late Rick Rescorla – the man who is credited with saving over 2700 lives on 9/11. Throughout the two days David would often respectively reflect and remember those who had died, or been injured, in the disasters we explored. He would say, and I will never forget, "…we must always remember those that lost their lives lift us up into the light of understanding". I learnt so much. HRO, Resilience Engineering, Critical Incident Stress Management (CISM) and more. Those of us who were there are still talking about it…… Thankyou David